Castle Mill Port Meadow development: Campaigners seek judicial review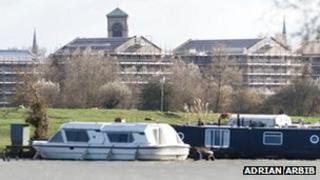 Campaigners opposed to some Oxford University student housing which has been built near a beauty spot in the city have begun legal action.
The Campaign to Protect Rural England (CPRE) is seeking a judicial review of the decision to grant consent for the Castle Mill development at Port Meadow.
The CPRE says it is challenging Oxford City Council for not carrying out an environmental impact assessment.
The council said the challenge was late as the housing had already been built.
A spokesman said: "We have reviewed the claims made by Oxfordshire CPRE and believe that these are unfounded.
"The council will defend the legal action, if it is pursued."
The £21.5m development is on Roger Dudman Way overlooking a Site of Special Scientific Interest and a Scheduled Ancient Monument beside the River Thames.
'Guardians of beauty'
Brian Wood, chairman of CPRE Oxfordshire, said: "This development has had a devastating impact on the historic landscape of Port Meadow.
"We have given the university every opportunity to reconsider and voluntarily lower the height of the buildings.
"We have given the city council every opportunity to use their powers to suspend or revoke the planning permission whilst an environmental impact assessment is considered."
A university spokesman said: "The Castle Mill buildings will provide accommodation for hundreds of students, reducing pressure on Oxford's constricted rental housing market - an important issue for local people.
"They will do so by reusing a former railway site, rather than encroaching on undeveloped land.
"We take our role as guardians of the beauty of Oxford seriously.
"Every significant development project in Oxford, whether involving the collegiate university or others, requires a careful balance of interests and needs - and only proceeds, as in this case, after full official scrutiny and approval."
When fully completed, the series of five-storey accommodation blocks will provide 439 units of graduate accommodation.
An online petition against the development has attracted 3,000 signatures.