Life during World War I in Berkshire project gets funding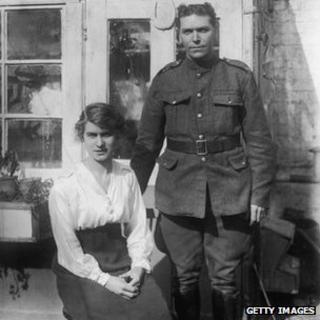 A library project to research and record what it was like to live in Berkshire during World War I has been given lottery funding.
A project manager and volunteers will digitise local newspapers, street directories and a four-volume casualty list.
They will work from July until June next year, which marks the 100th anniversary of the start of the war.
It is being paid for with £78,000 from the Heritage Lottery Fund.
The project, entitled Berkshire in the First World War, will aim to create 20 case studies on topics such as the Home Front, Women at War and also on how people adjusted to life after the war.
World War I began on 28 July 1914 and lasted until 11 November 1918.
The public are being asked to lend or donate letters, diaries, medals, photos or other items to go towards the collection.
Family historians
Once the project is complete, all the information will be made available on Reading Libraries' website.
The council will also produce a book, a travelling exhibition and materials for schools.
A spokeswoman said: "Many people in Reading and Berkshire have grandfathers or other relatives who were involved in the war.
"The website will make the information accessible for researchers and family historians."
Marian Livingston, lead councillor for culture and sport, said: "Community involvement and the expertise of local historians enriches and informs us all.
"The grant will make a difference and ensures that the project is a great success."