Oxford Foundation child safety conference postponed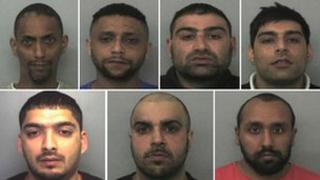 A child protection conference due to take place next month has been delayed in the wake of the Oxford abuse trial.
Seven men were convicted at the Old Bailey on 14 May of raping girls and are due to be sentenced on 26 June.
The Oxford Foundation, which runs educational programmes to promote religious and social harmony, had been due to host the conference on 22 June.
It said it postponed the event until reviews of police and county council involvement in the case were complete.
Following conclusion of the trial, Thames Valley Police and Oxfordshire County Council were criticised for not acting earlier to stop the abuse.
'Open forum'
The events leading up to the Operation Bullfinch investigation are now the subject of a serious case review.
Oxford Foundation founder Imam Monawar Hussain said: "We have been carefully monitoring developments following the conclusion of the Bullfinch trial.
"Our fundamental concern is the safety of our children and, in the light of the various inquiries, the foundation has taken the view that a delayed conference would provide the opportunity to include any findings from the current investigations."
Speakers at the 'Safeguarding our children - protecting our future' conference at St John's College had been due to include deputy children's commissioner Sue Berelowitz and Nicola Blackwood, the MP for Oxford West and Abingdon.
Ms Blackwood said she believed the timing of the conference, which had been organised some months ago, was no longer appropriate because it would have taken place days before the sentencing.
She added: "I think it's a good thing to try and get interested parties together to debate these things in an open forum."
The event is due to be rescheduled later in the year.