Janee Parsons death: Husband guilty of 'jealous rage' murder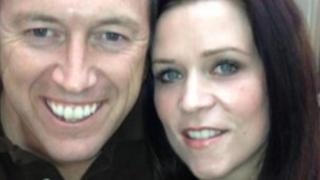 A man has been jailed for life for stabbing to death his wife as she was getting ready for a weekend away with her new boyfriend.
Andrew Parsons, 38, attacked Janee Parsons, 31, in their Bicester home in front of their young son.
The jury at Oxford Crown Court heard how the attack was captured on a dictation machine left under a bed by Parsons to spy on his wife.
Mrs Parsons died from multiple stab wounds on 1 December.
Parsons was told he must serve at least 20 years of his life sentence.
Judge Patrick Eccles QC told him: "You were overwhelmed in my judgement by jealous rage.
"Nobody can predict the psychological harm which will be significant to your son.
"You were and no doubt are a good father, you will suffer for the rest of your life knowing the harm you have caused to them."
'Extraordinary and disturbing'
The dictation machine, which was found by a relative, captured Mrs Parsons pleading with her husband not to kill her.
Their son is heard crying out to his father.
After the stabbing, Mrs Parsons is heard to mumble a few words of prayer, saying: "Oh my God, no, no, dear God forgive me for my sins."
Det Ch Insp Joe Kidman from Thames Valley Police said the secret recording had been hard for people to listen to.
Members of Janee Parsons' family had left the public gallery as the recording that captured the mother of two's "last moments" was played in court.
The detective said: "This is very unusual and of course it does help us to understand exactly what happened and I hope has been of assistance to the jury.
"I pay tribute to them because it's extraordinary and disturbing evidence that they've paid very special attention to in reaching their verdict."
'Tragic case'
In mitigation David Hislop QC said Parsons had been clinically depressed and under "the most extraordinary pressure".
He added: "No-one more than Andrew Parsons wishes he could turn the clock back. He loved his wife, perhaps too much - and still does.
"He will forever have to live with what he has done.
"He will forever have to live with the knowledge that he did what he did in front of his son and in doing so took away from that son, and another son, their mother.
"It is indeed a tragic, tragic case."
The couple married in Las Vegas in 2004 and lived in the US before moving to England.
Mrs Parsons met another man last October and a few weeks later told her husband she wanted to separate.
The attack took place two weeks after Mrs Parsons came clean to her husband about the affair.