Barton Oxford: Application for 900 homes submitted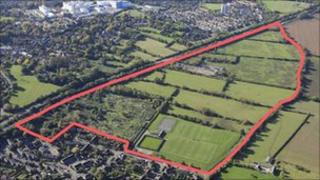 An outline planning application has been submitted to build up to 900 new homes in Oxford.
Development on the 93-acre (38 hectares) site to the west of Barton was given approval by the Planning Inspectorate in November.
The application includes plans for a new junction off the A40, a possible hotel and a new primary school.
Developer Grosvenor has revised its previous estimate of completing the new homes from early 2014 to late 2015.
Around 40% of the planned new homes will be designated as affordable housing.
Councillor Bob Price, leader of Oxford City Council, said: "This is a major step forward.
"I feel confident this planning application will lead to the creation of a really good place to live."
Sue Holden from the Barton Community Association hopes the plans will protect the existing Barton neighbourhood.
She said: "We need to look after the community as it stands and I think the city council and the developer have taken our discussions in the public consultation so far on board.
"We've let them know what we'd like to see happen and we're confident we're working well in partnership."