Oxford Brookes University opens elite rowing facilities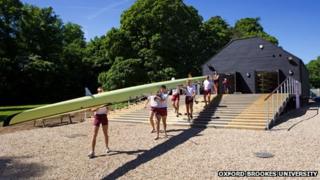 A new boathouse with training facilities for elite rowers on the River Thames has opened.
The complex at Cholsey near Wallingford has been built by Oxford Brookes University.
Between them, former members of the university's rowing club have won five gold medals since the Sydney Olympics.
Head coach Richard Spratley said: "This club is a proven route to the Olympics and the new boathouse will help secure our position at the top."
The new facilities include land-based training areas, extra boat storage and large changing rooms elite crews.
Athens and Beijing Olympic gold medallist Steve Williams was a student rower at Oxford Brookes, as were brothers Peter and Richard Chambers who won silver in London 2012.