Merlins to return to RAF Benson after Afghanistan role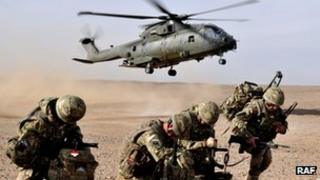 Helicopter crews are set to return to Oxfordshire after Britain's fleet of Merlin HC3 aircraft has carried out its final operations in Afghanistan.
The Merlins have provided support to British forces on the front line in Helmand province for four years.
Aircrew will return to RAF Benson while engineers prepare the aircraft to be transported back to the UK.
Defence Secretary Philip Hammond said the return was "a key element of our orderly drawdown from Afghanistan".
The end of Merlin flights comes as UK military hands over security responsibility to Afghan forces.
The Ministry of Defence said the Merlins had flown more than 18,000 hours in Helmand, moving more than 7,900 tonnes of equipment and transporting more than 130,000 personnel.
Group Captain Frazer Nicholson, Commander of the Joint Aviation Group, based in Camp Bastion said: "The Merlin helicopters have proven to be capable air asset that have tirelessly moved personnel and equipment in a really demanding environment.
"Camp Bastion is nearly 3,000 feet above sea level, dusty, and over 40C in the summer.
"That environment is incredibly tough on all helicopters but the Merlins have fared well."
After their return to RAF Benson, the Merlins will be prepared their new role in supporting Royal Navy amphibious operations.