Sutton Courtenay warehouses will 'create 2,000 new jobs'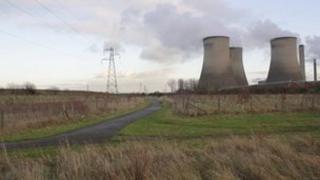 Two new distribution and logistics buildings in Oxfordshire will create 2,000 new jobs, developers say.
Plans for the buildings near Didcot Power Station in Sutton Courtenay will be displayed to the public for the first time later this month.
Cordea Savills LLP is expected to submit a formal planning application to Vale of White Horse District Council next month.
The 62-acre (26 hectare) site will house two separate buildings.
Simon Leonard, a spokesman for the developers, said: "We're really looking forward to having a constructive dialogue with local people about our proposals to regenerate a key site in south Oxfordshire.
"The facilities will provide an important economic boost to the local area."
Plans will be on display at public consultation events at Sutton Courtenay Village Hall on 14 June and Didcot Civic Centre on 15 June.