Boars Hill road repairs delayed further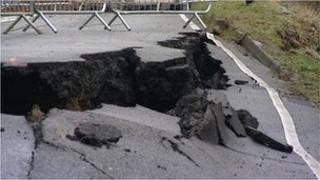 Residents in a Oxford hamlet awaiting repairs to a collapsed road have been told to expect further delays.
The A4183 at Boars Hill, was closed in December after it split in two following heavy rain.
Oxfordshire County Council said "no timeframe to remedy the issue had yet been agreed".
The road closure is having a major impact on residents who describe it as "unbearable" with nearby roads being used as rat runs.
Drivers have been using Kennington village as an alternative.
'A big job'
Resident Godfrey Horsman said: "Since the road closed traffic through the village has increased ten fold - it's horrendous just trying to cross the road.
"We've got to live with this continuous traffic, until they get that road up and running again, there's nowhere else for it to go.
"Surely they can mend the road in two or three months?"
A spokesman for Oxfordshire County Council said: "We understand the frustration of residents, motorists, and everyone else who wants to see the road reopened as soon as possible.
"This is a big job and it is going to take some significant time."
The council said site investigation work had been undertaken to establish the geology beneath the road and the underlying cause of the collapse.
The road, about two miles from Oxford's city centre, links Oxford to Abingdon. It has cracks which span up to 2ft (0.6m) wide in places.
The road's closure is also affecting businesses.
Anthony Healy owner of the Westwood Hotel said: "This was a busy road, but we have no passing trade whatsoever, which has affected our business.
"There's also much more of an issue. Staff can't get here, the bus service no longer exists, so local staff can't get here by public transport."