Oxfordshire Clinical Commissioning Group budget 'almost spent'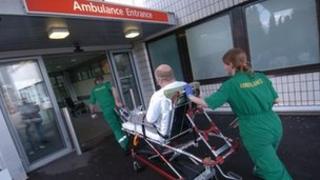 The new NHS commissioning group for Oxfordshire has £3.3m left of its £658m budget, two and a half months into the financial year.
Oxfordshire Clinical Commissioning Group (CCG) said an increase in demand for emergency care had put its finances "under pressure".
The group said it had to commit extra funds to its hospital contracts - but would not "run out of cash".
NHS England said it was providing "advice and support" to the group.
The CCG took on responsibility for buying secondary care services for all 83 GP practices in Oxfordshire on 1 April.
On 30 April, it signed a contract with Oxford University Hospitals Trust "following protracted discussions" worth £263.4m.
Oxfordshire CGC chief executive Dr Stephen Richards said: "We have contract values that pay for healthcare services throughout the 12 month period so we are not about to run out of cash but we will need to live very frugally throughout the year."
Dr Richards said there had been "unprecedented activity, particularly in urgent care, in the last 12 months" forcing the group to commit more to its contract with the John Radcliffe and Horton hospitals.
He said: "We will have to look at things we can do in the year - like the type of operations that are being done - and raise some thresholds for things like knee operations and hip operations.
"We will be even more diligent in making sure the patient really needs that operation. We're not going to stop any operations but we are going to look more closely at all of them."
NHS England said: "This is the first year that CCGs have been in operation and they have been working hard on making their 2013-14 financial plans as robust as possible.
"Having strong plans in place is an essential part of the CCG authorisation process, which NHS England is responsible for overseeing.
"As part of this, we continue to work with CCGs to review their financial plans and we will provide advice and support where it is needed, relevant to the needs of the specific CCG.
"It is not a one size fits all approach and the review process is ongoing."
According to the Kings Fund, A&E attendances across England in the first three quarters of 2012-2013 were up 5.3% on the same period in 2009-10.
A&E visits cost between £80 and £100, rising to £2,500 if a patient is admitted to hospital.
The CCG said it would attempt to save £28.9m over the next three years with a range of measures, including reducing A&E admissions by 10% and emergency operations by 15%.