Oxford University medical students to staff emergency vehicle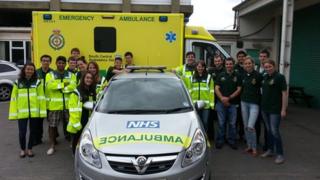 Medical students at the University of Oxford are being equipped with a response vehicle to attend emergencies.
South Central Ambulance Service (SCAS) has recruited volunteers to administer aid to patients whilst their ambulance response is en route to a scene.
To date 34 students have been trained, with 17 having passed a driving test in order to use the "dynamic response" car.
Undergraduate Sameer Ganatra called the scheme "tremendously exciting".
The students will cover mainly rural settings across Oxfordshire, Buckinghamshire and Berkshire in their free time.
Mr Ganatra added: "There's something of a gap in the medical school curriculum for exposure to pre-hospital care.
"This scheme allows us to gain valuable experience of being the first on the scene at the frontline of the NHS.
"In our day-to-day life as clinical medical students we spend most of it either in the lecture theatres or on the wards."
'Adrenaline surge'
The fourth and fifth year medical students will work in crews of two, responding to 999 calls in the Vauxhall Corsa at normal road speed.
SCAS training officer David England came up with the idea, which was launched on Monday. He said: "The medical students aren't a substitute at all for any emergency resource that may attend you ambulance-wise."
He added that it would be an "eye opener" for students.
Mr Ganatra said: "When you get that call through after an hour of waiting you do feel a surge of adrenaline.
"You do think back to your training, which has been drilled into us in the classrooms over the past five years, but it is a very different experience when you're the one being called out yourself and you know that there's no-one else around apart from your colleague."