Childrey villagers remember resident with road sign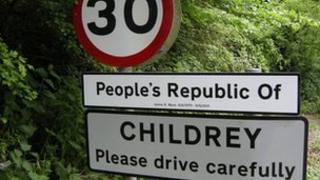 Villagers in an Oxfordshire village have adapted their road sign in memory of a former resident.
Childrey's road sign now reads "The People's Republic of Childrey", in tribute to James Wyse who died from cancer in 2011, aged 41.
Simon Cooper, a close friend of Mr Wyse, adapted the road sign on 9 June - Mr Wyse's birthday.
He said: "Feedback has been so good. People are making a pilgrimage to the sign to pay their respects to James."
Mr Wyse who died from a malignant melanoma was "well known and respected" in the village.
'Enough's enough'
Mr Cooper said: "James always referred to the village as the The People's Republic of Childrey, or PRC.
"People who knew him are coming along to have their picture taken with the sign.
"I expect it will get to the point that someone will say enough's enough and it will have to come down."
Villagers are planning to ask the parish council if the sign can stay up permanently.
The parish council said it was happy for the sign to remain in place until it begins to look untidy.