Oxford carbon emissions tested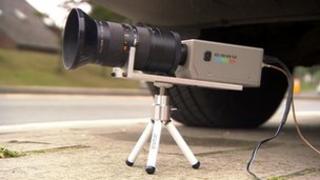 New technology developed in the USA has been used to detect carbon emissions from vehicles in Oxford.
Researchers from King's College, London, have carried out tests in a bid to cut pollution in the city centre.
Specialist equipment has shone an infrared beam across the road to detect which gasses are in exhaust fumes.
Oxford is the second city in the UK to undergo the tests funded by the Department for Environment, Food and Rural Affairs (Defra).
Monitoring by Oxford City Council has shown improvements in air quality over the past decade, but pollution levels are still above the legal limit on some of the city's busiest roads.
City centre bans
Labour city councillor John Tanner said: "This research will give us the information about which vehicles cause the most pollution.
"The next step for how we tackle that will be guided by these results."
From January 2014, buses must reach high European exhaust emission standards or face a ban from the city centre and the rest of Oxfordshire.
The technology has been developed by the University of Denver, Colorado.
Air quality analyst Max Priestman, from King's College, London, said: "The measurements give us exact detail of the origin of pollutants.
"We've seen in recent years reductions in the concentration of some pollutants, but others haven't reduced as fast as expected.
"The instruments measure up to 2,000 vehicles a day giving a broad outlook on the nature of pollution in Oxford."