Oxford University's biggest benefactor Dr James Martin dies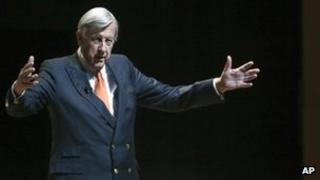 The man who made the biggest ever single donation to the University of Oxford has died.
Computer science expert and author Dr James Martin, 79, was found dead in waters off Agar's Island, Bermuda, on Monday.
His record-breaking £60m endowment to the university in 2004 established the Oxford Martin School.
In a statement the school said its founder was an "inspiration to millions".
It added: "James Martin was a passionate advocate of the power of ideas, and provided the largest benefaction to the University of Oxford in its 900-year history in order to create the Oxford Martin School.
"The school is his permanent legacy and a fitting tribute - a flourishing, vibrant community of the world's leading minds, coming together to change the world for the better."
Pulitzer prize
English-born Dr Martin was a former student at Keble College, Oxford.
Professor Andrew Hamilton, the vice-chancellor of the university, called him a "true visionary" with "exceptional generosity".
"His impact will be felt for generations to come, as through the school he has enabled researchers to address the biggest questions of the 21st century," he said.
The director of the School, Professor Ian Goldin, said: "We have lost a towering intellect, guiding visionary and a wonderful close friend."
Dr Martin wrote a record 104 textbooks and was the highest-selling author of books on computing and related technology for 25 years.
He was nominated for a Pulitzer prize for his 1977 book The Wired Society, based on his predictions and progressive views about technology.
The magazine Computerworld, in its 25th anniversary issue, ranked him fourth among the 25 individuals who had most influenced the world of computer science.
In addition to his endowment, in 2009 he pledged £32.5m through match-funding to the university.
In a statement the Bermuda Police Service said: "Dr Martin's lifeless body was found floating in the waters of the Great Sound near Agar's Island [at about 17:30 on Monday 24 June] by a kayaker.
"An investigation into the circumstances surrounding Dr Martin's death is ongoing; however at this time there [do] not appear to be any suspicious circumstances."