Oxford postman's Olympic gold postbox tour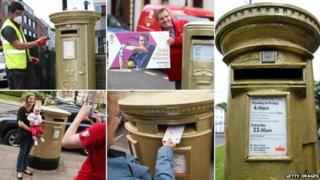 A postman from Oxford is visiting all of the gold postboxes on the UK mainland that celebrate Britain's Olympic and Paralympic champions.
Gary White, 29, began his 3,200-mile tour of 104 boxes at Kirkby-in-Ashfield in Nottinghamshire.
He aims to complete his journey on 25 July at the Olympic Park, east London.
At each location, the nomadic postman said he would photograph the postbox and send a postcard to himself to document his journey.
Andy Murray
He plans to use the corresponding commemorative Olympic stamps produced by Royal Mail during the 2012 Games.
At Dunblane, the stamp will feature Andy Murray, recognised for his gold in the men's singles tennis.
The postman's tour is raising money for the Motor Neurone Disease (MND) Association in memory of his stamp-collecting aunt, Christine Goodall, who lived in the US.
Mr White said: "I have chosen the MND Association as my charity because my aunt sadly died last year, after battling with this disease for five years - she was only 56 years old.
"I had bought all of the special gold medal stamps with the intention of using them to send her a postcard... sadly, time passed too quickly for me to do this.
"I thought that this event would be a good way to raise money and awareness for this disease, to continue the helpful, happy and charitable mood that was present during London 2012, and to use up some of those stamps for a good cause."
He believes he is the first postman to undertake such a tour.