Oxford city centre beach opens to the public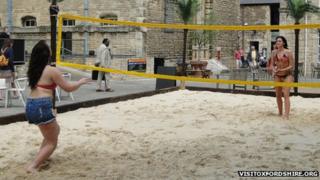 An artificial beach has opened for business in Oxford city centre.
Twenty-three tonnes of sand have transformed an area of the city's Castle Quarter, complemented with deck chairs and palm trees.
The beach took three days to build and will host a series of events over the summer, including a beach volleyball tournament and cinema screenings.
It opens daily to the public, for free, between 10:00 and 23:00 BST until about mid-September.
Businessman and restaurant owner Max Mason came up with the idea.
He said: "Being a naval officer for eight years gave me a deep love for the sea.
"Moving to Oxford 10 years ago meant I couldn't be further from it, so we've created a beach and packed it with fun things and a programme of events."