Man stabbed in chest at Oxford's Cowley Road Carnival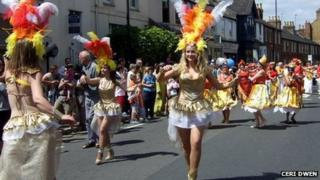 A man was stabbed in the chest during a street carnival in Oxford.
A man, aged in his 20s, was stabbed with an unknown object after an argument with another man at about 18:00 BST.
The attacker is described as Asian, in his 20s, about 5ft 10ins and wearing a black top.
The Cowley Road event was making its comeback on Sunday after being cancelled last year due to Olympic and Diamond Jubilee celebrations.
The stabbed man, who was attacked on the corner of Cowley Road and Bullingdon Road, was taken to hospital for treatment for non life-threatening injury.
Police said it was an "isolated incident" during an otherwise "peaceful" carnival.
Thousands of people attended the free event which featured a procession involving more than 600 participants.
The volunteer-run carnival began in 2001 as part of the regeneration of the Cowley Road area, however a lack of funds led to it being held at South Park rather than on the road in 2011.