Oxford University Castle Mill Port Meadow flats reviewed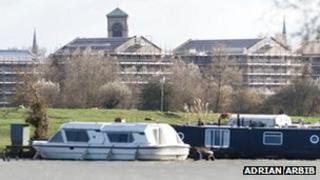 An independent review is to be carried out into how Oxford City Council allowed student flats to be built near a riverside beauty spot in the city.
The £21.5m Castle Mill development at Port Meadow has been widely criticised as ugly and spoiling the view.
An inspector will determine if the planning process, which led to its approval, was carried out properly.
The flats by the River Thames overlook a Site of Special Scientific Interest and a Scheduled Ancient Monument.
'Claims unfounded'
The review will also look at other issues, including the visual impact of the development and whether processes for assessing and analysing ground contamination were done correctly.
The Campaign to Protect Rural England (CPRE) is also seeking a judicial review on the basis of Oxford City Council not carrying out an environmental impact assessment.
The council said the challenge was late as the housing had already been built, and it believed CPRE's claims were unfounded.
The series of five-storey accommodation blocks provide 439 units of graduate accommodation.
An online petition against the development on Roger Dudman Way has attracted more than 3,000 signatures.
A draft review plan is set to be approved by a council committee and an inspector appointed in August.