Disused Faringdon theatre transformed into parkour centre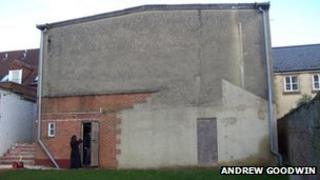 A former Oxfordshire theatre has been turned into a centre for parkour - also known as free running - in a community project.
The Old Pump House in Faringdon has been transformed thanks to donations totalling about £38,000 and is due to open to the public later.
Works at the centre included creating an edit suite where films of young people performing parkour can be made.
The site, last used as a theatre in 1994, is open to all community groups.
'Fantastic responses'
Trustee Olivia Bloomfield said: "We realised there was something missing for young people in the area. We built the whole concept around parkour.
"We've had some fantastic responses. I think every single business in Faringdon has chipped in.
"It's really what a community project is all about.
"The children have been helping, they have been painting and have put collages up in the changing rooms.
"Everybody has pitched in, it's a real community effort.
"We've done the whole thing in about five weeks."
Faringdon Town Council, which runs the building, has offered the project free use of the site for three years.
Lord Faringdon, who owns the building, has donated £2,000 towards the scheme.