Ambulance 'blocked by driver' on way to emergency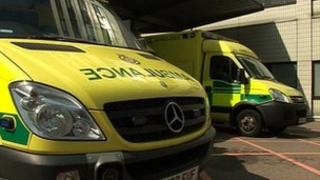 Paramedics responding to an emergency were deliberately obstructed by a car, an ambulance trust has said.
A trust spokesman said the driver blocked an ambulance travelling towards Thame, Oxfordshire, on the A418 at about midday on Sunday.
He said the driver made "inappropriate gestures" to the paramedics and the "irresponsible actions... should not be tolerated".
Police have identified the car involved and are looking for witnesses.
'Reprehensible actions'
South Central Ambulance Service was responding to a medical emergency in Buttermarket, Thame.
The air ambulance, two ground ambulances and a community first responder were sent, but the patient died at the scene.
The spokesman said: "On this occasion there was no detriment to the patient because other resources were on the scene.
"However, in another instance a vehicle obstructed by a member of the public may be the only vehicle en route to an emergency, and as such reprehensible actions such as these may adversely affect a patient's outcome."