Oxford People's Supermarket needs £20,000 funding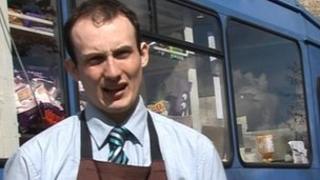 A supermarket owned and run by local people in Oxford is calling for donations from customers to secure its long-term future.
The People's Supermarket was set up by greengrocer Chris Waites last July, inspired by a Channel 4 series.
The non-profit cooperative, mainly run by volunteers, needs to raise £20,000 in 60 days.
Customers who donate will be rewarded with shopping vouchers which can be used in the new year.
'Struggling for cash'
Hannah Hoechner from the supermarket explained cash-flow is a concern for the young business.
She said: "At just over a year old, we're struggling for the cash to buy assets like fridge freezers to properly stock our produce.
"We try to turnover our locally-sourced fruit and vegetables as quickly as possible, but in the recent warm weather that has proved to be a bit of a challenge.
"If we can't raise the £20,000 through donations, we will look at alternative means of funding."
The supermarket is based on Cowley Road, an area of Oxford which has several other supermarkets nearby.
Miss Hoechner added: "We offer a viable alternative as we have stock on offer that some of the main supermarkets do not."
The store was targeted by thieves in September who stole a safe containing approximately £2,500 in cash.
About 500 volunteers from the community own shares in the supermarket. Staff who work shifts are rewarded with discounts on purchases.