Oxford sex shop licence bid sparks row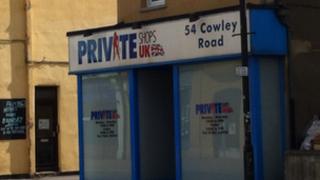 A bid by an Oxford sex shop for a new licence has sparked objections after members of a paedophile ring operating in the same area were jailed.
Darker Enterprises Ltd has applied to Oxford City Council for a new licence at Private Shops UK in Cowley Road.
The shop is not linked to the seven men convicted of targeting and grooming children, many in the Cowley Road area.
But one complainant claims the area "has become synonymous with sleaze and the sexual exploitation of children".
The city council has received 10 formal objections to the sex shop's licence being renewed.
'We don't cause problems'
Elizabeth Mills, chairwoman of the Divinity Road Area Residents' Association, said: "It's simply no longer appropriate."
She added: "I certainly don't want to be seen as trying to stop people from having fun, but I do think the Cowley Road area has changed a lot and it deserves better."
David Brown, director of Darker Enterprises Ltd, said: "[The shop has] been there for years and years.
"We are highly regarded and we have got just under 100 licences around the country. We don't cause problems.
"We provide a service. We don't understand why anybody would object in this day and age."
The licence application is to be considered by Oxford City Council's licensing sub-committee on 20 August.