Midwife Louise Westwood 'wrongly labelled as bully'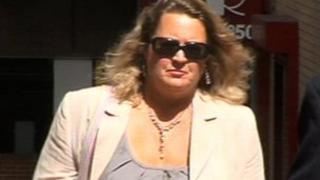 A midwife was wrongly accused of bullying after revealing working practices she claimed put patients at risk, an employment tribunal has heard.
Louise Westwood claims her career was ruined after speaking to managers at the Cotswold Maternity Unit in Chipping Norton, Oxfordshire of her concerns.
They included fears for the safety of a hard of hearing colleague who was unable to hear fire alarms.
Oxford University Hospitals NHS Trust denies any wrongdoing.
The hearing in Reading, which is expected to last three days, heard Mrs Westwood had worked as a midwife in Chipping Norton for 10 years.
Incorrect timesheets
Her career was said to be going well but, around 2009, a series of incidents at the maternity unit had, in her belief, put patients' safety at risk.
As well as fears for her hard of hearing colleague, she said another was repeatedly late and deliberately filled her time sheets out incorrectly.
Mrs Westwood claimed the NHS trust failed to follow its own guidelines for staff speaking out when they see a problem, and that she believed "whistle-blowing" had destroyed her career.
She spoke to managers at the unit about her concerns in January 2012. An investigation followed, which saw her removed from the unit.
The trust said in its conclusion of the investigation it was alleged Mrs Westwood had bullied the hard of hearing midwife she complained about.
The NHS trust acknowledged Mrs Westwood had been removed from her post and was asked to work at the John Radcliffe Hospital in Oxford.
But it said the move was not detrimental to her career and she had been treated fairly.
It claimed there was no conspiracy among her managers and they were not "out to get" Mrs Westwood.
The hearing continues.