Midwife Louise Westwood loses 'bullying' tribunal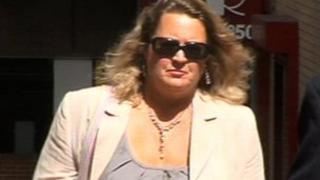 A midwife who claimed she was punished by NHS managers after revealing working practices she said put patients at risk has lost an employment tribunal.
Louise Westwood said she was wrongly accused of bullying after reporting concerns at the Cotswold Maternity Unit in Chipping Norton, Oxfordshire.
Oxford University Hospitals NHS Trust had denied the allegations.
A spokesman welcomed the dismissal of the case, saying "staff are never penalised for raising concerns".
The employment tribunal, held in Reading, found Ms Westwood, who has worked as a midwife in Oxfordshire since 2002, was moved from her post in Chipping Norton legitimately.
'Very disappointed'
It heard that in January 2012, Mrs Westwood had complained to managers that two of her colleagues at the unit had put pregnant mothers safety at risk - the first by arriving late for shifts, the second because she was hard of hearing and allegedly found it difficult to communicate.
Shortly afterwards, an investigation by the trust alleged that Mrs Westwood had bullied another midwife and she was relocated to the John Radcliffe Hospital in Oxford.
The trust insisted the move was not a punishment for whistleblowing and denied her claims that it had been detrimental to her career.
It also said staff time-keeping had been looked in to and the hard of hearing midwife that Mrs Westwood referred to was very experienced and good at her job.
Tony McDonald, general manager of children's and women's services at the Oxford University Hospitals NHS Trust said: "The trust takes all allegations of bullying and harassment extremely seriously.
"We have a comprehensive policy in place to support staff who wish to raise matters of concern, which are thoroughly investigated and appropriate action taken."
After the hearing, Mrs Westwod said she was "very disappointed" with the decision but did not regret taking the case to the tribunal.