Henley triathlon organisation criticised by MP and mayor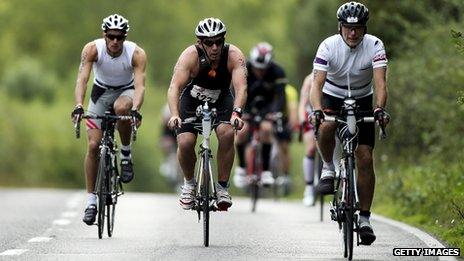 Henley's MP and mayor have criticised an apparent failure to consult residents ahead of a triathlon race.
Road signs indicate three roads will be closed for 12 hours on 8 September for the Challenge Henley event.
It will affect almost 800 households while 1,350 athletes compete. But organisers Just Racing UK hope most of the roads will reopen by 14:00 BST.
It has also undertaken a voluntary three-month consultation with all affected parishes and towns.
Henley MP John Howell and mayor Stefan Gawrysiak feel traffic and trade impacts have not been fully considered.
Mr Howell said: "I don't think anyone wants to be a killjoy, but they do want to see it organised properly.
"I set up a liaison committee made up of parish councils affected by the event with Just Racing UK, but they boycotted its last meeting."
Event director and Just Racing UK managing director Alan Rose said he was unable to attend the meeting and felt the criticism was unfair.
"We have changed this year's route following a voluntary three-month consultation that had previously proposed three alternative routes," he said.
"We've taken all the advice on board from parish council, town council, county council and highways meetings and we're really keen to address issues from previous years."
Additional marshals, including double the number of motorcycle escorts, have been provided by a specialist events team for this year's event.
Mr Howell and Mr Gawrysiak have also questioned the event's economic benefits.
Mr Gawrysiak said: "There's anecdotal evidence that shopkeepers actually do no trade during that day."
Just Racing UK said an economic impact assessment between themselves and South Oxfordshire District Council revealed participants spent £613,000 in Henley during last year's event week.
Related Internet Links
The BBC is not responsible for the content of external sites.