Marussia F1 team's computer room damaged by fire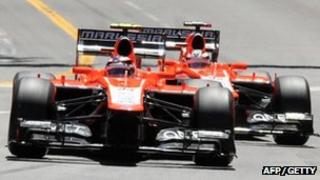 Fire has damaged computer equipment at the Oxfordshire headquarters of the Marussia Formula 1 team.
It is thought an electrical fault sparked the blaze in the server room in the early hours.
Security at the building, on the outskirts of Banbury, raised the alarm and the flames were put out by two fire crews in under an hour.
The team, represented by drivers Jules Bianchi and Max Chilton, is in Monza preparing for the Italian Grand Prix.