Fire sweeps through Premier Inn at Warmington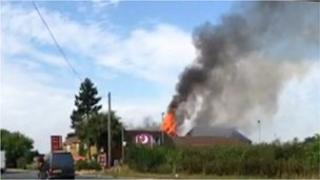 Guests and staff were evacuated from a 54-bedroom hotel and pub in Oxfordshire as 50 firefighters tackled a blaze.
The fire started in an "external area" of the Premier Inn at Warmington near Banbury on Thursday afternoon.
The building and neighbouring Wobbly Wheel pub were evacuated and all the customers and staff were accounted for.
Firefighters from Oxfordshire and Warwickshire tackled the blaze. Crews remained at the hotel overnight damping down.
Premier Inn spokesperson Richard Prescott said the fire broke out in a "non-guest external area."
"We would like to our apologise for any inconvenience that may have been caused."
An investigation into the cause of the fire is under way.