Oxford Brookes students put up in hotel as halls unfinished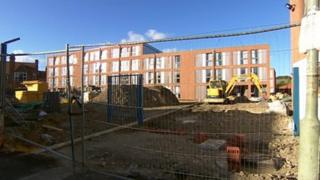 University students are starting their academic lives in a hotel because their halls of residence are not ready.
Oxford Brookes University has had to fund accommodation for 40 new students at the Holiday Inn hotel by the city's Kassam Stadium.
Letting agents have also reported an increased demand from students who missed out on a place in halls.
The university said places in halls were only guaranteed for those with Oxford Brookes as their first choice.
Registrar Paul Large said Oxford Brookes had proved a popular choice with undergraduates this year.
He said: "This has meant a larger proportion of students than in previous years wishing to stay in halls.
"Places are not guaranteed for those who selected Brookes as their insurance choice or through clearing.
On-site warden
"Measures have been put in place to assist those students in finding suitable accommodation."
The university anticipates the new accommodation on Chapel Street, housing 190 students from universities across Oxford, will be completed in October.
Students' union president Joel Holmes said about 200 students had been without accommodation following results and clearing, 50 of whom were first choice students.
He said: "People were reporting a shortage of houses in the city, but it was purely just a slower process than normal trying to allocate places in halls.
"After a week, only one of the first choice students was without a place. To my knowledge, there is not a student without a place in either the private or university sector."
A warden will be at the hotel to help students settle in and a shuttle bus is being provided by the students' union.