David Cameron backs Oxfordshire children's centres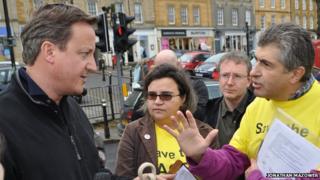 David Cameron has told constituents he supports children's centres in Oxfordshire.
His backing comes amid a county council review of all of its 44 centres as it bids to make savings of more than £60m.
The prime minister interrupted his shopping on Saturday to speak to campaigners in Chipping Norton, which is in his Witney constituency.
He told BBC Radio Oxford he has made his views clear to the county council and is "on the case".
He said: "Let's remember this is an idea they have come forward with, it's not a proposal and it's still in a consultation stage.
"They will hear from me as the member of parliament.
"If you look at the funding which comes from central government, the Children's Support Grant, that money has not gone down and is there for the local councils.
"They have to make the decisions, but I feel very strongly about children's centres as they are very important."
County council leader Ian Hudspeth said Mr Cameron's views would be "taken into consideration when moving forward with all the proposals".
He added: "It's not just about one centre, it's about all the centres across the county."
The county council also contested Mr Cameron's claims about funding and said money for children's centres had been combined into a general grant which was cut by 22% last year.
It said despite this, all its centres remain open.
Councillor Zoe Patrick, the Liberal Democrat leader on the council, said she was encouraged to hear the prime minister was in touch with the issues in his constituency.
She said: "Local government has had to make a fair chunk of savings already and more are set to come.
"It would be a severe blow to lose children's centres in the county and I'm pleased the prime minister recognises that."