Water Eaton silo demolished for Oxford Parkway Station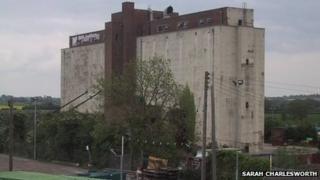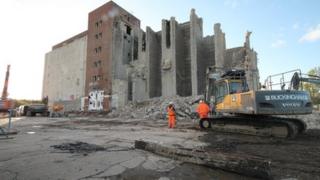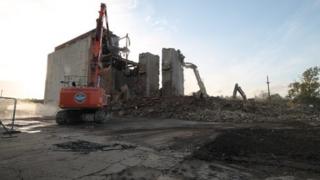 A derelict grain silo and "eyesore" on the outskirts of Oxford has been demolished.
The Water Eaton silo, which was built in the 1940s but closed in the 1980s, is making way for a new Oxford Parkway railway station.
Michael Gibbard, councillor for Yarnton, Gosford and Water Eaton, said it had been a "blot on the landscape".
Stephen Barker, chief project engineer at Chiltern Railways, called the demolition a "key milestone".
The grain silo was a recognisable fixture on the skyline for commuters entering the city from the north and pilots landing at London Oxford Airport in Kidlington.
It even appeared in a music video.
'Gaping holes'
Mr Gibbard, from Cherwell District Council, said its demolition would be welcomed.
He added: "Although it has served a practical purpose in the past it was very much an eyesore.
"It was derelict, smothered with graffiti and I don't think many will mourn its loss.
"It was an iconic building but I think the fact that it had fallen into disrepair meant demolition was the only answer."
He called the forthcoming railway station a "great step forward and a bonus to the area".
The silo was originally built to store grain during World War II. Adam Montague, who runs The Urban Explorer, even found an American military stretcher on site in 2010.
He said: "The surrounding area had been used as a dumping ground and a lot of the metal from the ground floor of the silo building had been cut away.
"Many sections of the floor were simply not there with gaping holes extending the entire height of the building.
"The top floors were extremely interesting with a lot of equipment and machinery still in situ. The views from the roof were also incredible."
Oxford Parkway will have a car park with more than 800 spaces and provide fast trains to London and local services to Oxford and Bicester.
Mr Barker said it was a case of "clearing out the old ready for the new".
Rob Mole, programme manager at Network Rail, said demolition was "necessary" to provide "better rail connectivity to the region".
The first trains will run from the station in the summer of 2015.