RAF Upper Heyford buildings demolished for housing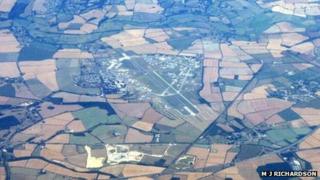 Parts of a former RAF site in Oxfordshire will be demolished to make way for a new housing development.
The Dorchester Group is to build 700 homes at RAF Upper Heyford in Bicester, alongside 300 former US military homes, at the new Heyford Park.
A spokesman for the developer called it an "exciting milestone" and a "perfect case study of former Ministry of Defence land being put to good use".
About 80 military buildings, closed since 1994, will be destroyed.
Other parts of the site are Grade-II listed by English Heritage.
These include the nose dock hangar, built in 1951 to service American nuclear-armed bombers, and the base's control tower.
In September it was confirmed that the adapted hangars will house some of Britain's most valuable artefacts.
Rare collections include some of 19th century physicist Michael Faraday's original test equipment, stored within concrete walls thick enough to withstand a 1,000lb demolition bomb.
A heritage centre is planned for the new-look airbase, along with visitor tours.
RAF Upper Heyford started out as a landing field for the Royal Flying Corps in 1916.