Yarnton level crossing death: Stalled car led to train crash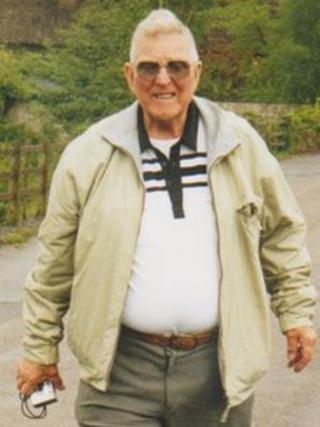 An elderly man died when the car he was in stalled on a level crossing near Oxford, an inquest has heard.
Thomas Pizzey, 85, from Banbury, was in a wheelchair in the back when the car was hit by a freight train at Yarnton in January. He died at the scene.
His partner, who was driving, failed to restart it. A woman tried to help them but had to get out of the way.
Describing it as a "nightmare scenario", the Oxfordshire coroner recorded a verdict of accidental death.
The inquest heard the engine of the car, driven by Mr Pizzey's partner Malcolm Kimberley, unexpectedly failed on the railway line as the couple were returning from a trip to a garden centre.
Moments later the signals began warning them a train was approaching.
Mr Kimberly remained at the wheel and was described by witnesses as "panicking" as he tried to restart the car a number of times.
After 45 seconds, the car was struck by a freight train en route from Manchester to Southampton, travelling at about 60mph (95kph).
Before the crash, a female passenger from another car who had attempted to go to the men's aid had to get out of the way before the train hit.
The impact threw Mr Pizzey out of the car and onto the tracks where he died instantly.
Mr Kimberly suffered serious injuries. At the time, the train driver was said to be shaken but unhurt.
The inquest heard British Transport Police inquiries had shown there was no fault to the barrier.
Network Rail said the barriers and warning signals had worked exactly as they should.
In a statement, Mr Pizzey's two nieces said: "This was a very tragic way for our Uncle to die and the family are sad that his long life ended in this way."