Oxford University wins claim against Oxford Law School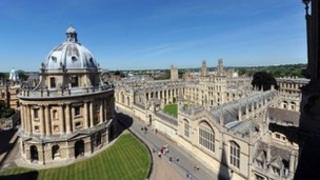 A law school with "Oxford" in its title has been ordered by a High Court judge to change its name because it could be confused with the famous university.
The Oxford Law School, in Eastleigh, Hampshire, also used "dreaming spires"-style imagery on its website.
Mohammed Riaz, who ran the school, said only "morons in a hurry" would mistake it for Oxford University.
However, Judge Janet Lambert said there was a risk of damage to the university's reputation.
She agreed with the university's assertion that a "substantial majority of people" would be confused.
"I also do not accept that such people would fall into the category of being 'morons in a hurry'," she added.
The university claimed there had been several instances of the school's students phoning its law faculty.
The school denied breaching the university's trademarks.
'Unfair advantage'
The judge ordered the school to change its name and said the university would take ownership of its website.
The website had used similar fonts, colours, and "shield device", the Intellectual Property Enterprise Court heard.
After being contacted by The Chancellor Masters and Scholars last year, the business changed its site colours from navy blue to lilac.
It also put up a legal notice warning students the school was not connected to or endorsed by the university.
But the judge found it had tried to "pass off" its courses as connected to the institution.
Judge Lambert acknowledged Oxford Law School served a "slightly different market" but said there was a "serious risk" that use of the name would take "unfair advantage" of the university and potentially cause damage to its reputation for excellence.
"There only has to be one bad or mediocre teacher, or one bad or mediocre course to impact on the university's reputation," she argued.
Similarly, the school's use of the word "Oxford" was "not fair competition" and it had "sought to recreate a look and get-up" so similar to the university's that it was "likely to deceive potential law students".
Mr Riaz said the business had ceased trading in February and insisted he had no intention of profiting from the university's reputation.
The school's website currently redirects to West London Law College.
A university spokesman said: "The university is very pleased with the judgement of the Intellectual Property Enterprise Court."