DJ Mike Read rescues dog from Thames at Henley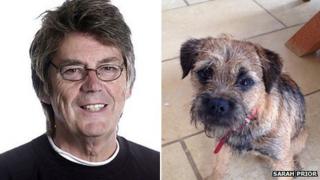 Radio presenter Mike Read has been praised by a dog owner for rescuing her border terrier from fast flowing river waters.
Sarah Prior was walking six-month-old Digby at Mill Meadows in Henley when he fell into the River Thames.
The former Radio One breakfast show host, who was also walking along the towpath, said he took a "rugby dive" to grab the puppy from the muddy water.
Ms Prior said Mr Read had been "absolutely lovely about it".
She later tweeted her gratitude, adding: "Turns out doggie paddle is NOT a natural instinct for ALL dogs!".
'Beginning to smell'
Mr Read said he "reacted on instinct" when he heard Ms Prior calling out after she had seen Digby disappear into the water while trying to chase some ducks.
"He came floating past just with his nose out of the water.
"I got hold of his head and got him up.
"You think 'in five seconds that dog is going to be 20 yards downstream'."
River levels in the area remain high after the heavy rainfall and flooding over the past few months.
Ms Prior said Digby was "none the worse for wear" although, several hours later, was beginning to smell of dirty river water.
Mr Read, who now works for BBC Radio Berkshire, "hosed himself down" at a nearby boatyard before continuing into town.