No date for Sonning Bridge reopening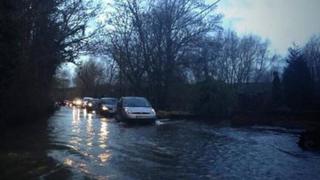 A flood-damaged main commuter route linking Berkshire and Oxfordshire over the River Thames will remain closed "for the foreseeable future".
Oxfordshire County Council said it was "likely" the earth foundations of the B478 Playhatch Road towards Sonning Bridge had been affected.
The road and bridge have been closed since 2 February after also closing for two weeks in January due to flooding.
Reading East MP Rob Wilson said the closure was "very disappointing".
Commuters faced serious traffic congestion as the closure drove traffic towards the other two bridges in the area, Reading Bridge and Caversham Bridge.
Reading East MP Rob Wilson, who backs the idea for another bridge in Reading, said the continued closure was "very disappointing news as it will continue to cause significant disruption to my constituents".
Councillor Rodney Rose acknowledged the "inconvenience" caused to motorists, but said water levels were still "too high for an investigation of how the flooding has affected the road's structure".