Rare Joseph Knibb Oxford clock sells for twice auction price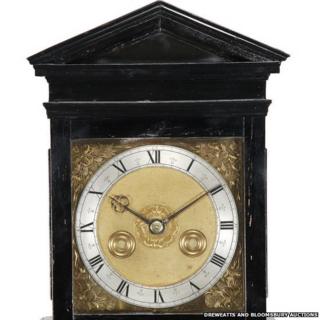 A rare 17th Century longcase clock has sold at auction for £286,800 - more than double its estimated value.
Built in Oxford by clockmaker, Joseph Knibb, it dates from 1665-1667 and was described by auctioneers as "an extremely rare survivor".
Auctioneers Dreweatts and Bloomsbury said it could possibly be the earliest surviving example made by Knibb.
The 6ft 3ins (190.5cm) clock is one of four remaining longcase clocks made by the master craftsman.
The clock, which was auctioned at Donnington Priory in Newbury, had been valued at up to £120,000.
Joseph Knibb was famous for inventing the Roman striking mechanism, which uses two bells of different tones to sound the hours.
The clock at the state entrance to Windsor Castle and the turret clocks at Wadham College are his work.
He is recognised with a blue plaque at the Church Room, Claydon, North Oxfordshire, where he lived. He died a wealthy man in 1711.