Jayden Parkinson death: Didcot churchyard rededicated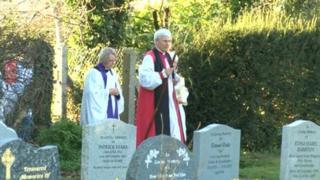 The churchyard where a 17-year-old girl's body was discovered has been rededicated in a special ceremony.
Jayden Parkinson's body was found in an established grave at All Saints' churchyard in Didcot, Oxfordshire, on 18 December.
Jayden's ex-boyfriend Ben Blakeley, 22, of Christchurch Road, Reading, has been charged with her murder.
The afternoon service was led by the Bishop of Dorchester, the Rt Rev Colin Fletcher.
'Restore peace'
He said the events surrounding Jayden's death had been "deeply disturbing" to those who visited the churchyard and had loved ones buried there.
"Churchyards are places for quiet and reflection - special places where we remember our loved ones, and often feel very close to them," he said.
He said he hoped the service would "help to restore to the full that wonderful sense of peace that many people, including myself, feel has been damaged".
Mr Blakeley and a 17-year-old boy from Didcot have also been charged with perverting the course of justice.
The teenager is also accused of assisting in the disposal of Jayden's body and other evidence.
They are both due to appear at Oxford Crown Court on Monday.
Police have confirmed Jayden died from "pressure to the neck".