Expert review panel for Oxford development plans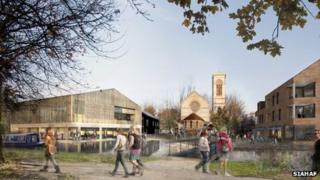 An expert panel has been set up to review significant planning applications in Oxford, which could include the recently unveiled Jericho Wharf boatyard redevelopment proposals.
The Oxford Design Review Panel will consider a range of projects, including housing and civic buildings.
The group, which includes architects and engineers, will aim to ensure "a consistently high standard of design".
The panel will meet once a month to consider two projects.
Michael Crofton-Briggs, head of city development at Oxford City Council, said the panel would ensure the design for future buildings in Oxford would work "within the demands of the historic city, but also can move with the times".
He added: "This is an exciting time as we progress with some major developments in the city, like the Jericho boatyard, the Westgate Shopping Centre and the new homes in Barton."