Bicester homes evacuated following gas leak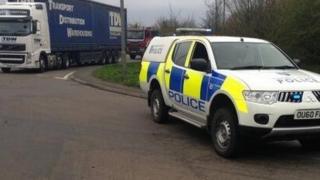 A gas leak that resulted in several homes being evacuated was caused by the fracturing of a pipe during a railway upgrade.
London Road in Bicester, Oxfordshire, was shut by police for three hours between Launton Road and Priory Road.
Gas was released as work was carried out on the Bicester and Oxford line near Bicester Town's level crossing.
Joseph James, from Priory Road, said his house and more than 20 others had to be abandoned.
A Thames Valley Police officer knocked on his door and told him of a "major gas leak at the train station's construction site".
'Huge and powerful'
He said: "You could hear from behind the houses a huge powerful stream of air, which you knew was gas coming from a pipe."
A spokesman for the Bicester to Oxford Collaboration, which is upgrading the line, confirmed a "piece of equipment" had struck a gas pipe.
In a statement Southern Gas Networks said: "One of our medium pressure gas mains... was badly damaged by a third party earlier this afternoon.
"This has led to a gas escape and therefore a strong smell of gas in the local area.
"We have now secured the gas leak by completing a temporary repair to our gas main."
London Road was reopened and people allowed to return to their homes.