Covered Market rents were 'miscalculated'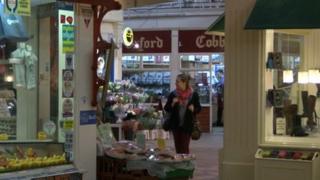 New rents for shops in a historic market cannot be applied to all traders because of an "error in calculations", a city authority has said.
Instead Oxford City Council has suggested a rise for the Covered Market nearly three times higher than that set by an independent arbitrator.
Campaigners hoped his decision for five shops could be applied to all.
But rises of between 16% and 27% were mistakenly reduced to between 3% and 12%, the council said.
The five units concerned were not members of the Covered Market Traders Association.
Bob Price, leader of Oxford City Council, said: "We went to the arbitrator on these five units in the expectation we'd be able to use that as a model for all the other offers.
"As it happened the arbitration award contained an arithmetical error so it's not a good basis for making offers to our other tenants."
The council said awards could not be withdrawn.
'Cloud hanging over'
Vicky Adler, from the traders association, said: "If we've got to have an increase at least give us the same increase that the others have been given by going to arbitration.
"Let's stop this now and let's get on with trading without this cloud hanging over us."
The council said: "Rents for the Covered Market were last reviewed in 2007. Since then inflation has increased prices by close to 20%."
It has written to the affected shops proposing an increase in line with inflation, but said it "wished" it could apply the arbitration results to all shops.
"If the remaining traders wish to contest the council's proposals, a new arbitrator will be appointed," it added.
The arbitrator was appointed by the Royal Institution of Chartered Surveyors (Rics).
A Rics spokesman said: "The alleged miscalculation is a matter which needs to be resolved between the parties... Rics is unable to comment further."
The BBC has been unable to reach the arbitrator for comment.