Police pay compensation for wrong man photo error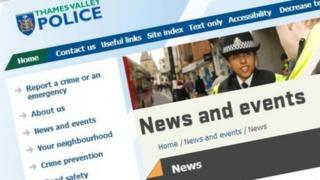 A man has received "substantial compensation" after police wrongly sent his photograph to the media with a press release about a convicted rapist.
A photo of Daniel Rodriguez-Lay, 33, was shown on TV and in newspaper reports after it was mistakenly issued by Thames Valley Police in October.
He received an apology from the force and settled his claim out of court for an undisclosed amount of compensation.
The image should have been of Daniel Rodriquez, who had been jailed.
BBC television, the local newspaper and online media showed Mr Rodriguez-Lay's image with a report of how another man, Daniel Rodriquez of Morton Avenue, Kidlington, Oxfordshire, admitted to raping a woman, firearms offences, and being involved in an armed stand-off with the police while he held his two-year-old twin girls hostage.
The correct photograph was later sent to the media.
Mr Rodriguez-Lay, who is originally from Oxford and now lives in Bristol, said he was "deeply upset".
"The first thing I knew about this was when I started receiving calls and text messages from my family and friends back in Oxford. They were asking what I had done.
"They thought I was a rapist. I was sickened by what that man had done and that people thought it was me," he said.
Media outlets published and broadcast clarifications saying the picture had been supplied by police and published in good faith.
Mr Rodriguez-Lay's solicitor Kevin Donoghue said: "The fact that the press reports were local to Daniel's family and friends, and described such brutal, grotesque, and deeply immoral crimes, means that the damage to my client's reputation and the distress, hurt, and humiliation he suffered were significant."
A Thames Valley Police spokesman said: "We immediately apologised to Mr Rodriguez-Lay and subsequently followed this up in writing.
"We are pleased that this matter has now been fully resolved for him.
"...measures have been taken to mitigate against the possibility of this happening again," he added.