Work starts on Bicester 'eco-town'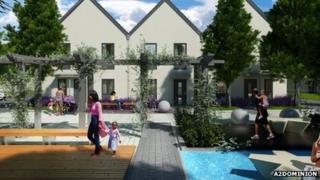 Work on a new "eco-town" has begun after its developer gave nearly £200,000 for a new primary school.
The development on land to the north west of Bicester, Oxfordshire, will include 393 homes and a shop, eco-pub and community centre.
Developer A2Dominion has started work on access roads and housing construction will begin in the autumn.
The "eco-town" will include 6,000 energy-efficient homes, built over the next 20 years.
Work was due to start at the end of March, but Cherwell District Council said the month-long delay was due to finalising details in the contracts.
A2Dominion has handed over £190,909 to fund the development's primary school and the developer is part-funding the whole project through a £3.5m infrastructure fund.
Solar panels
The initial 393 homes, including 119 that will be affordable, are expected to be completed within four-and-a-half years.
North West Bicester is one of four sites in England identified for this type of development.
Karen Curtin, director for Bicester at Cherwell District Council, said: "With up to 6,000 new homes due to be built over the next 20 to 30 years it is important to ensure that the facilities are in place to accommodate the early and future residents of north-west Bicester.
"One of the most important amenities is the provision of a primary school which will initially accommodate approximately 210 children aged between four and 11."
Solar panels will be installed on all the homes to generate electricity and the "eco-town" will use a combined heat and power plant to provide heat and hot water.