Oxford May Day: Thousands gather at Magdalen Bridge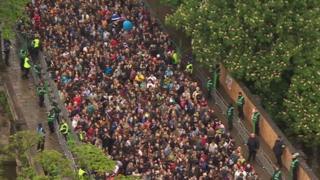 A man has been found unconscious in the street during Oxford's May Day celebrations.
Police said they were called to St Clement's Street, on the approach to Magdalen Bridge, at 06:47 BST. The area was cordoned off.
It is not known if the man was involved in the May Morning celebrations. He was taken to hospital for treatment.
About 5,000 people gathered on and around Magdalen Bridge to celebrate the coming of spring.
They gathered from 06:00 BST to listen to Hymnus Eucharisticus being sung from Magdalen College tower.
The hymn was composed in the 17th Century by a fellow of Magdalen and has been sung every year from the tower on the first morning of May.
In the past revellers have been hurt jumping from the bridge during the celebrations, but there were no reports of anyone jumping this year.
Thames Valley Police said there were no arrests, while South Central Ambulance Service said five people were treated for minor injuries "related to May Morning revellery".
Magdalen Bridge was closed to traffic but has since been reopened.