Work starts to power Blenheim Palace by water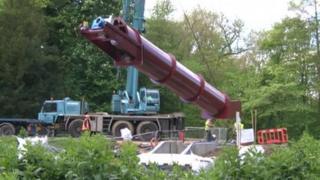 A £180,000 hydropower plan that will generate "clean electricity" is being installed at Blenheim Palace.
A 10m (32ft) long, 2m (7ft) diameter "Archimedean screw" was delivered to the stately home in Woodstock on Monday and was positioned below one of the ground's waterfalls.
The project aims to make the palace one of Britain's greenest and will power the equivalent of 20 homes.
The 11.5-tonne screw will begin to generate power from September.
The project is expected to generate an income of at least £18,000 per annum in its first year for the estate, which is home to the 11th Duke and Duchess of Marlborough and is the birthplace of Winston Churchill.
Famous gardener Capability Brown designed the palace's landscaped park in the 1760s.
Screw shelf life
Henry Riley, project manager for renewables firm Hallidays Hydro Power, said: "Waterfalls are a perfect source of power.
"We have this long screw and it is going to be discreetly installed alongside one of Capability Brown's waterfalls.
"As the water falls down the length of the screw, the weight of the water pushes on the flights and causes it to turn and then generates electricity from that motion."
He said the screw had a shelf life of 100 years.
Mr Riley added: "This power generation being input into their grid means they are running a lot of their background energy off green, renewable energy."