Thames Traditional Boat Rally cancelled after winter floods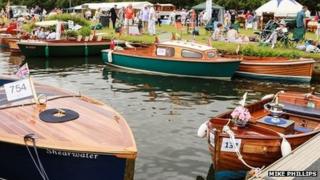 An annual vintage boat rally on the River Thames has been cancelled in the aftermath of the winter floods.
Organisers of the Thames Traditional Boat Rally (TTBR), which was to be held at Fawley Meadow, Henley in July, said the site was still too waterlogged.
They said there was "little prospect" of it drying out in time.
The rally has taken place annually for the past 36 years, but was also cancelled in 2012 because of flooding - a week before it was due to start.
About 200 vessels take part in the annual event which was due to take place on the weekend of 19-20 July.
Tony Goodhead, chairman of the rally's committee, said: "To be fair to everybody and to minimise any disruption or financial implications to all the entrants, and the TTBR, we believe it is better to cancel the event now."
Oxfordshire was among areas worst affected by flooding last winter.
Mr Goodhead said the committee was planning to stage the event again in 2015.