Sainsbury's removes 'slave' mannequin display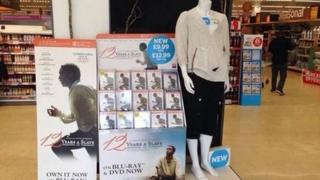 Sainsbury's has removed a "slave" mannequin from a display after complaints from members of the public.
The dummy, dressed in torn black trousers and a beige shirt appeared in its store in Heyford Hill, Oxford.
Shocked shoppers posted photographs on Twitter of the display for Oscar-winning film 12 Years a Slave.
Sainsbury's said in a statement: "We can only apologise. It's been taken down and clearly should never have gone up in the first place."
The display led to a backlash from Twitter users who thought it inappropriate.
Ava Vidal tweeted: "Can Sainsbury's publicly explain why they thought it was appropriate to promote 'slave chic' as a thing? Disgraceful!"
Little Red tweeted: "Oh my God. Sainsbury's actually did a 12 Years a Slave 'get the look'."
The film, directed by Steve McQueen, tells how free-born black man Solomon Northup is kidnapped and forced into slavery before finally winning his freedom 12 years later.