Local elections 2014: Oxfordshire councillor re-elected before vote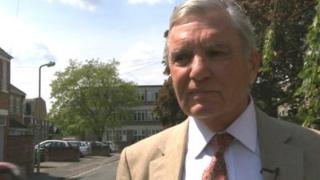 Local elections may be taking place across England on Thursday, but a councillor in Oxfordshire has already won his seat without a single vote being cast.
Conservative Tim Hallchurch was the only candidate nominated in the Cherwell Council district of Otmoor.
The seat is one of just a handful across the country with a lone candidate. So how does an area end up with just one man standing?
Unsurprisingly, the Electoral Reform Society blames it on the first past the post voting system used in the UK.
"Uncontested seats are a blight on our democracy," said chief executive Katie Ghose.
"In Otmoor ward, the other parties would feel they didn't have much of a chance of winning but it will also be because they don't have enough volunteers and candidates putting themselves forward."
The Liberal Democrats and the Greens told the BBC they were unable to find a local member who wanted to stand.
UKIP has also decided not to challenge for Otmoor despite coming second in the equivalent county council ward last year.
Labour said it usually has a policy of putting up candidates in all seats but failed on this occasion due to a mix-up.
While most of the Cherwell district is in the Banbury parliamentary constituency, Otmoor lies in Henley.
The Henley constituency Labour party did not realise it was up for election.
So is it disappointing to be re-elected without a challenge?
"No, not at all. In a strange way it's been quite convenient," said Mr Hallchurch.
As chairman of Oxfordshire County Council, the ceremonial head of the authority, he has not been allowed to campaign until his period of office ended on Tuesday, two days before polling day.
"I was elected with a clear majority a few years ago, so I've been democratically elected," he added.
"Anybody can stand against me. They have the democratic right to do so but they haven't done it."