Network Rail 'refuses' Bicester nursery's plea over bridge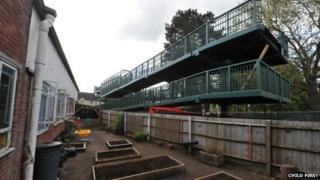 Staff at an Oxfordshire nursery have criticised Network Rail for refusing to help them relocate after it built a bridge that overlooks their premises.
Child First's boss Andrea Leonard had hoped the operator would contribute to demolition of part of their building.
The nursery plans to rebuild part of its centre elsewhere on the site.
However, Network Rail said it was looking at other options, including cladding the bridge and providing a canopy for the nursery garden.
The operator is also considering redesigning the ramps up to the bridge
'Left with consequences'
Ms Leonard said the construction of the bridge has had a "massive knock-on effect" on the nursery.
She said the vegetable garden can no longer be used and that 20% of parents are considering removing their children from the nursery in September, which could result in job losses.
"It is very disappointing and heartbreaking really," she said.
"They have built a bridge and walked away and we are left with the consequences."
Network Rail said the bridge was built to improve accessibility for rail passengers.
In a statement it said: "We are continuing our discussions about this bridge with Cherwell District Council and Oxfordshire County Council and looking at a number of options to alleviate the nursery's concerns."