Sonning Common boundary spat prompts protest advert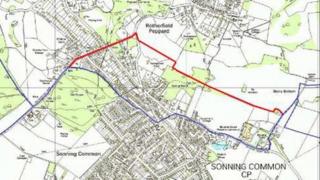 A spat over boundary changes has prompted an Oxfordshire council to publish a protest advert.
Sonning Common wants to claim an area from neighbouring Rotherfield Peppard, stating new housing developments meant the boundaries "had become blurred".
But Rotherfield Peppard said the loss of the 161 properties affected would reduce its households by 25%.
South Oxfordshire District Council proposed the boundaries stay the same but will make a decision on 17 July.
Sonning Common parish clerk Philip Collings said the council was taking out a full page advert in the Henley Standard "in protest" against the "flawed and illogical" proposal for no change.
'Land grabbing'
He said the parish boundaries had not been reviewed in 62 years and since then the village "has grown into a significant larger settlement with some 4,500 residents".
Rotherfield Peppard countered this by stating affected residents would have to pay 76% more in parish council tax under Sonning Common, and that its own loss in tax revenue could "result in a reduction in services".
Its parish clerk Linda Collison, said losing a quarter of its homes "would have a major impact on the viability of Rotherfield Peppard as a stand-alone parish".
Councillor Paul Harrison, who represents both Rotherfield Peppard and Sonning Common parishes, accused Sonning Common of "land grabbing an area which has been Rotherfield Peppard for generations".
He said: "People feel part of their community and don't want to change."
School catchment areas and ecclesiastical boundaries would not be affected.