Eileen Clark extradition: 'Final step in a very painful time'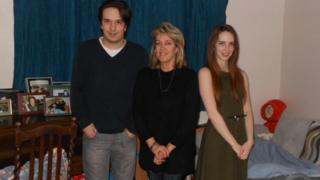 The extradition of a mother charged with kidnapping her children has been described as the "final step" in a "very painful time".
Eileen Clark, 57, of Oxford, was extradited to the United States on kidnapping charges after a legal challenge failed.
The decision followed kidnapping allegations made more than 14 years ago by her ex-husband John Clark.
Kim Esposito, Mr Clark's sister, said the last 20 years had been "painful".
She said: "Although the extradition happened it's still a very sad thing.
"The painful thing is, 20 years have gone by where the alienation of the children we once knew has grown and that's very hurtful.
"I can't speak on behalf of my brother, but for me and my parents this is the final step in what has been a very painful time."
'Vulnerable and terrified'
Ms Clark fled to Britain with her three children in 1998.
A fresh legal challenge against the extradition order was rejected at the High Court last month.
The court was "dubious" about a claim that Ms Clark was suffering from post-traumatic stress disorder (PTSD) related to a history of alleged domestic violence and abuse in the 1990s.
Human rights group Liberty said the extradition of the "vulnerable" and "terrified" Mrs Clark on Thursday was a 'perfect example of inhumanity and justice' and Sandra Horley, chief executive of domestic violence charity Refuge, said she was "horrified".
But Mrs Esposito said coverage of the case in the English media had been "very one-sided" and "painful" to her family.
"It is easy to accuse someone of a negative and not be able to disprove that negative," she said.
"That is the case for my brother and that is what is so painful for my family and my brother to see untruths posted and printed.
"My brother has always wanted his children to know he loved and wanted them in his life."
'Never stopped looking'
She said she was hopeful the family could now build a relationship with the children and that "the door was always open" to them.
She said: "We would really like that. We are open to it but it's been made pretty clear that's not going to happen with my niece.
"It's very hard. They've spent 20 years with one person being told certain things and it's hard for them not to believe those things because it's their mother."
Mrs Esposito said her brother had been reunited with the children in 2012 and her nephew had stayed with her a year-and-a-half ago.
She added: "Christmas was a very difficult time for my brother.
"It's usually a time we spend together as a family. Although he's reticent with his feelings he's never stopped looking for his kids. He's never let go of the hope he would be reunited with them."